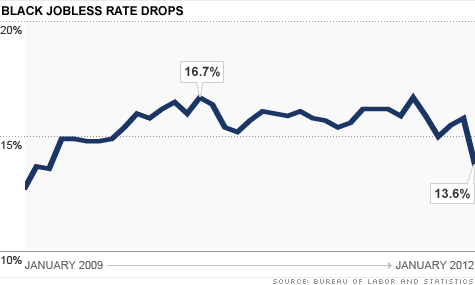 [ SOURCE CNN ] The unemployment rate for blacks fell more than 2 percentage points last month to its lowest level since March 2009. The drop puzzled economists, who cautioned that it's too early to say that a job market recovery for blacks is underway. The rate for African-Americans didn't budge at all in 2011, ending the year at 15.8%. The overall unemployment rate fell nearly a percentage point last year.
But even at 13.6% for January, the unemployment rate for blacks is still far higher than the rate for other racial and ethnic groups, as well as the nation as a whole.
The rate for black men, women and teens all fell last month.
The improvement may be due to warmer-than-usual weather, which allowed construction projects to proceed in January, said Dean Baker, co-director of the Center for Economic and Policy Research, a liberal think tank. Also, the revival of the manufacturing sector, which employs many African-Americans, likely helped lower the rate.